(Press Release) The Third Japan – Arab Economic Forum
December 20, 2013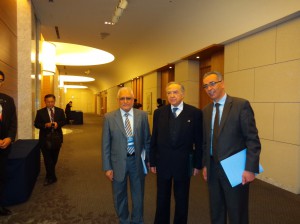 The Third Japan – Arab Economic Forum was held in Tokyo on December 16th and 17th 2013. Many participants from the public and private sectors of Arab countries and Japan attended the forum aiming to discuss necessary measures to enhance cooperation in various fields among the trade, investment and energy. Participants exchanged views not only on the energy related issues, but also regarding industrial development and other mutual cooperation areas between Arab countries and Japan.
Libya was represented in the forum by a delegation headed by Mr. Aboubaker ALGHAWI, Deputy Minister for Planning and Industrial zones, Ministry of Industry, accompanied by representatives from Ministry of Foreign Affairs and International Cooperation, Ministry of Industry and Tripoli's Chamber of Commerce and Industry.
The forum included workshops during its second day, in which Arab countries were eager to highlight trade and investment opportunities. These workshops were attended also by representatives of Japanese firms and institutions interested in investment in Arab countries.