(Press Release) Visit of Dr. Suleiman AL-FITURI, Minister of Industry, Libya to Japan
October 22, 2013
Dr. Suleiman AL-FITURI, Minister of Industry, Libya visited Japan from October 7th to 12th, 2013 in order to attend an international conference regarding the acceding of Minamata Convention to regulate the use and trade of mercury.
On his way to and from Kumamoto Prefecture where the conference was held, Minister AL-FITURI stopped over in Tokyo where several meetings with H.E. Mr. Nobuo KISHI, Senior Vice Foreign Minister, Mr. Hideaki DOMICHI, Senior Vice President of JICA and Madam Yuriko KOIKE, Chairperson of Japan-Libya Friendship Association (Member of the House of Representatives) and its active members took place.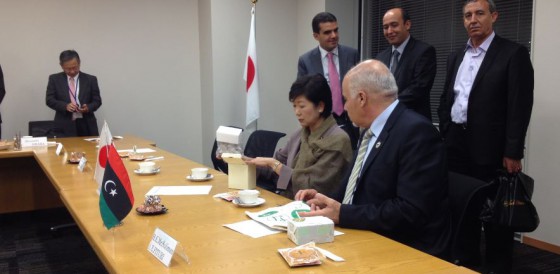 During these meetings, bilateral cooperative relations between Libya and Japan were discussed and work towards further enhancing relations in various fields. Minister AL-FITURI expressed to the Japanese officials and members of Japan-Libya Friendship Association, the appreciation on behalf of the Libyan government and its people for supporting Libya in order to rebuild the country and its organizations.
The Japanese side confirmed their continuing support and looked forward to further cooperate and enhance friendly relations between two countries in various fields.